Natalie Cressman & Ian Faquini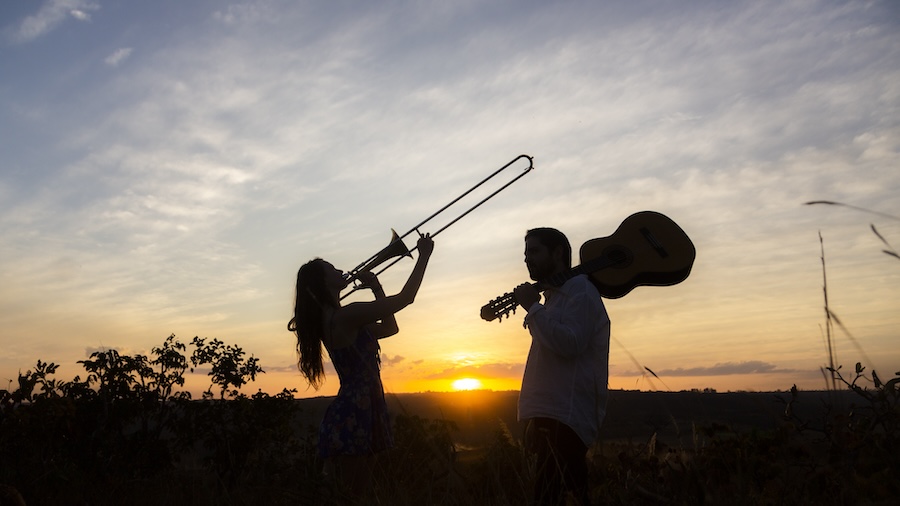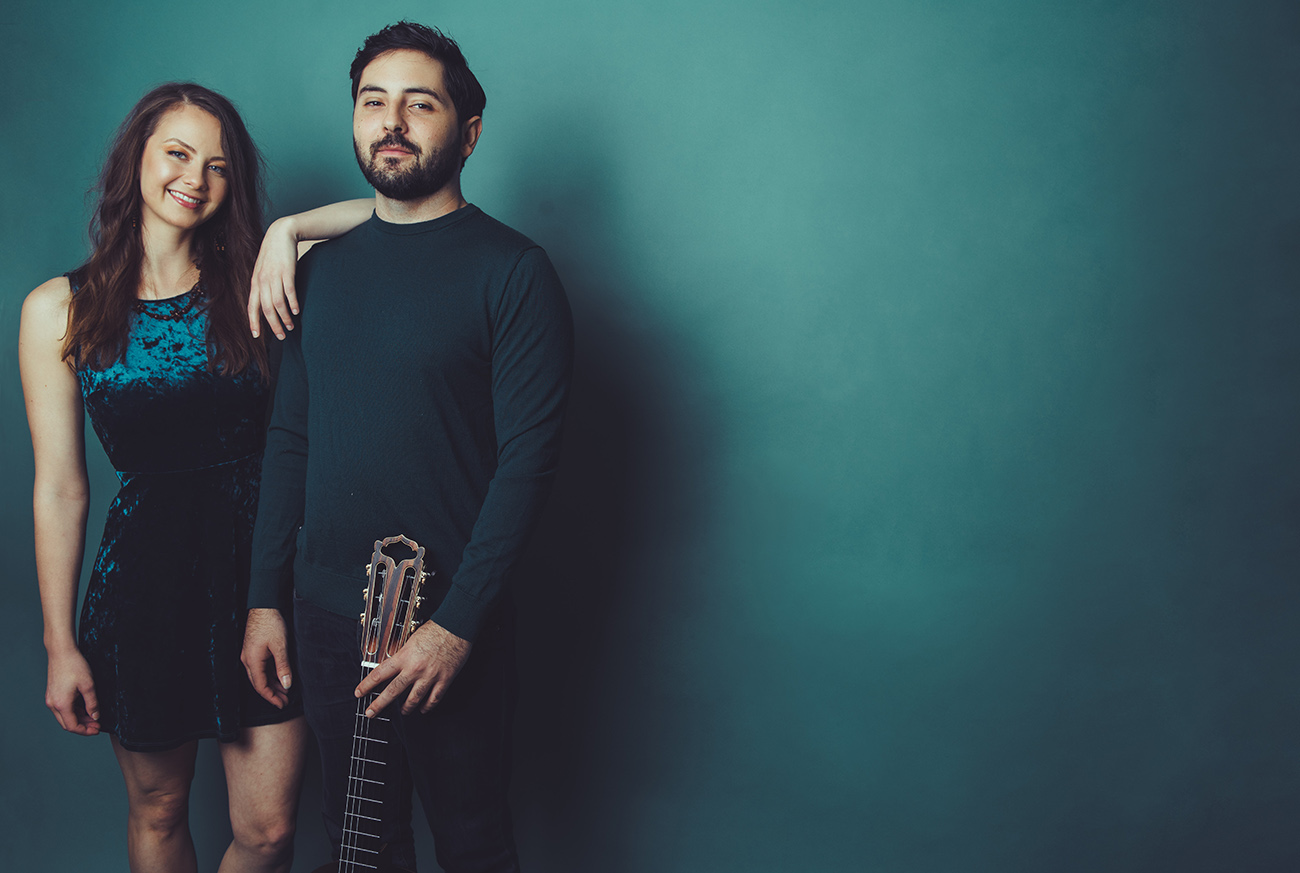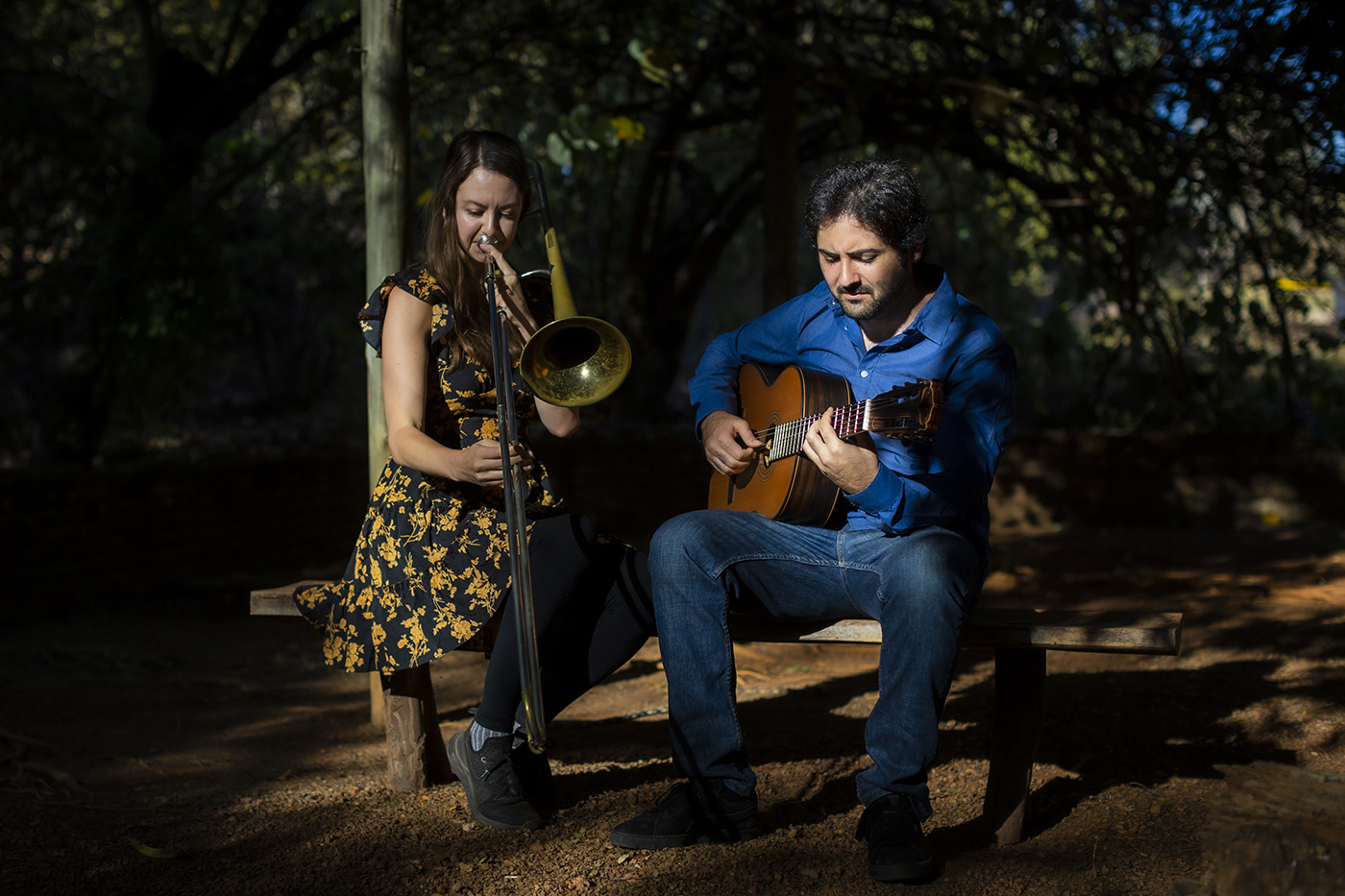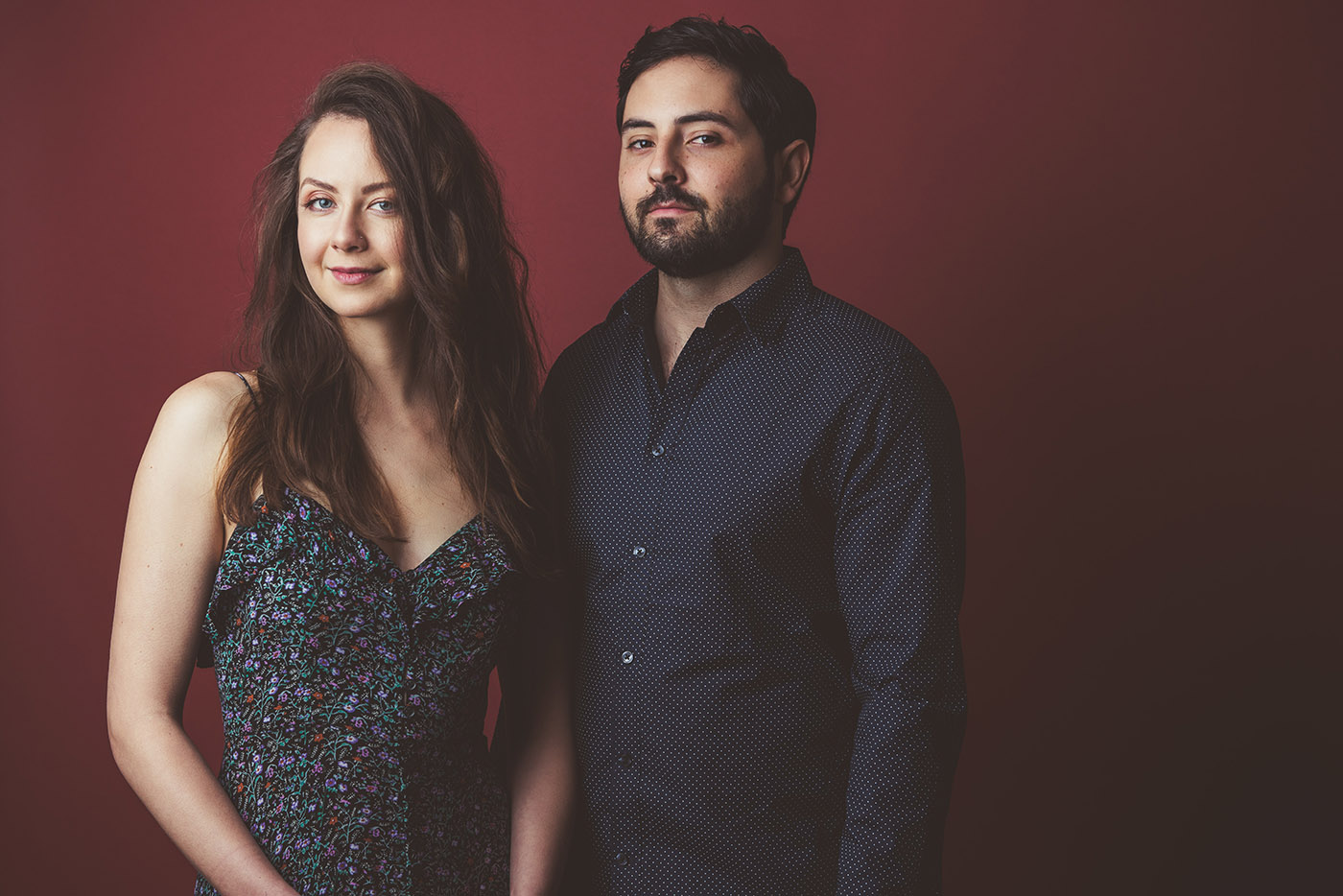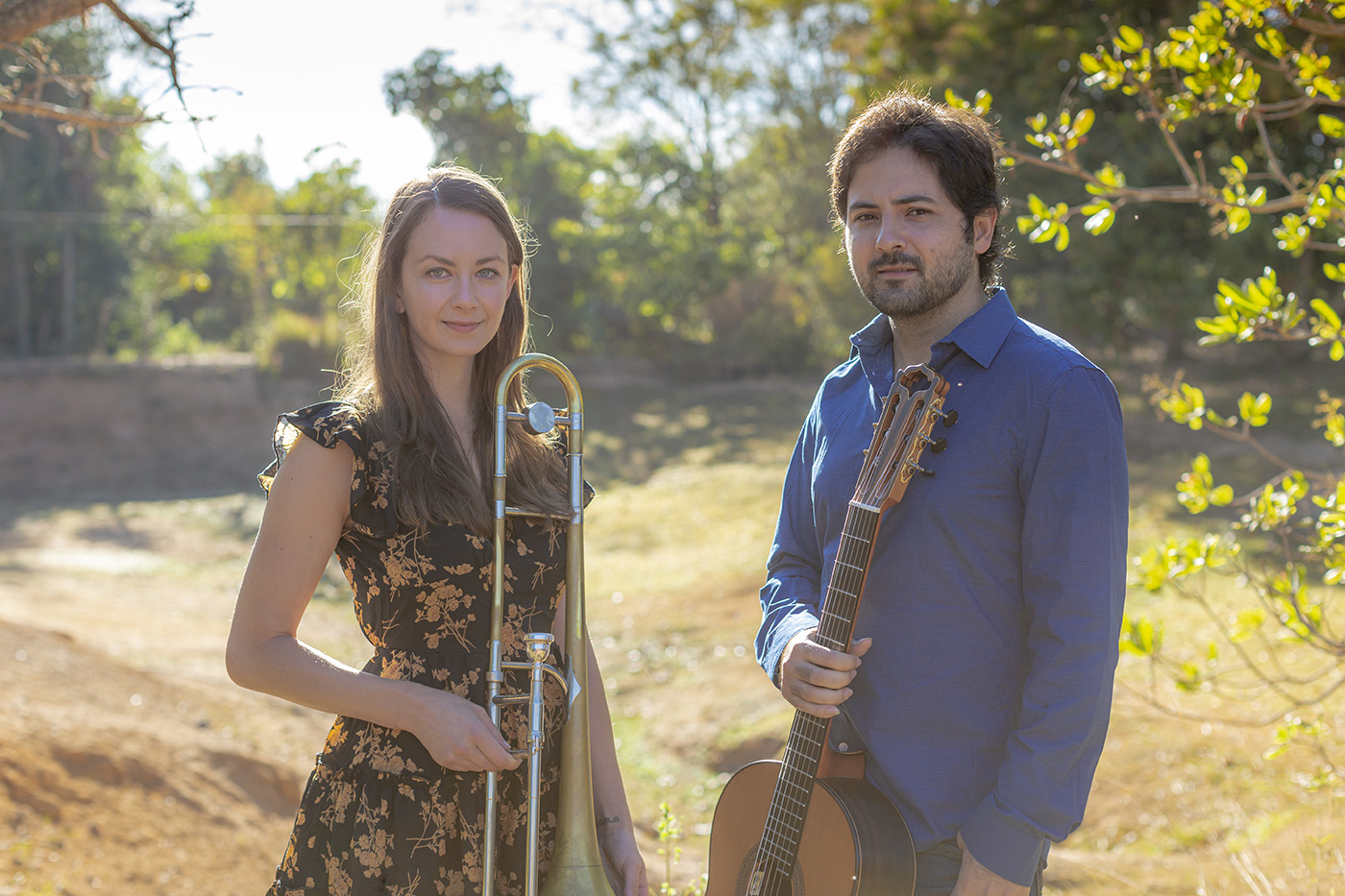 Natalie Cressman & Ian Faquini
Bio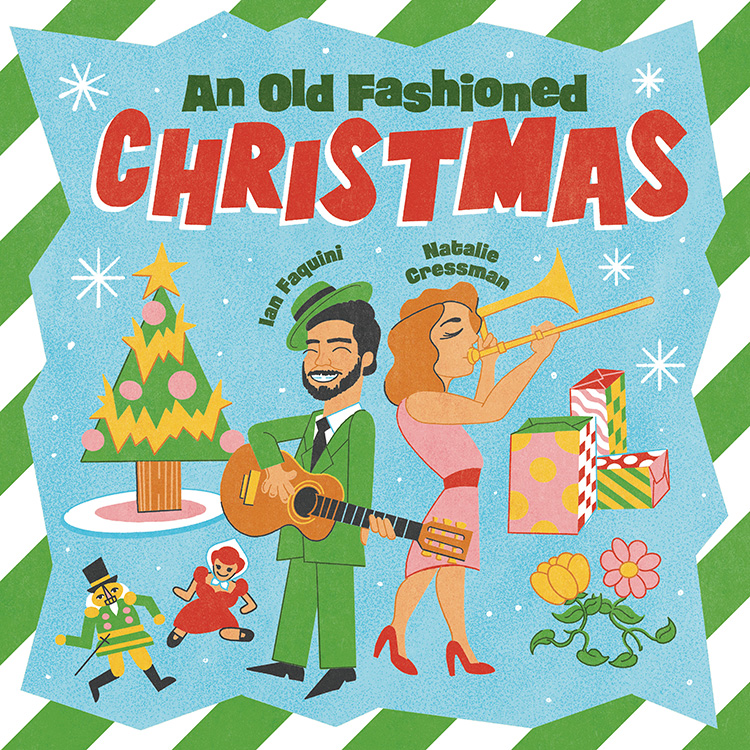 Listen Now
"An Old-Fashioned Christmas"
Listen to the exclusive online premiere of An Old-Fashioned Christmas, the third track from Natalie Cressman & Ian Faquini's upcoming An Old-Fashioned Christmas EP.
"Her trombone is world-class, but her singing voice is another thing entirely, an empathic entity that channels the ages. Cressman's is a flawless act that can only get better with time and age. Yep, I smell a Grammy — someday."
— Dave Good, San Diego Reader
"Faquini is an uncannily masterful composer"
– Paul de Barros, Seattle Times
Trombonist and singer/songwriter Natalie Cressman and composer, guitarist, and singer Ian Faquini have created a uniquely intimate duo collaboration, drawing from impressionism, jazz, and the great Brazilian songwriting tradition. Their original material features songs in three different languages and encompasses a vast spectrum of musical ground. With the warm instrumentation of acoustic guitar and trombone and two-part vocal harmonies hugging the Brazilian-accented Portuguese, Cressman & Faquini weave their musical voices together to create a fully orchestrated sound befitting a much larger ensemble. Together Cressman and Faquini have played their music across the US in venues ranging from intimate house concerts to performing arts halls and jazz festival stages such as the Monterey Jazz Festival, and have performed internationally in Brazil, Japan, Portugal, Spain, and Italy.
Ian Faquini writes astonishingly sophisticated Brazilian pop music in the omnivorous tradition known as MPB (música popular brasileira), which often draws heavily on jazz. Born in Brasília and raised in Berkeley, Ian Faquini is a protégé of Guinga, the revered Brazilian guitarist and songwriter whose tunes have been recorded by dozens of MPB stars. Faquini was a member of the renowned Berkeley High School Jazz program before going on to study at the California Jazz Conservatory in Berkeley and, immediately after graduating, joined the faculty there. He has performed throughout Europe, Japan, Brazil and the United States, including Montreux Jazz Festival, Enjoy Jazz Festival, Bimhuis (Amsterdam), Birdland (NYC), and The A Trane (Berlin) and has shared the stage and recording studio with such names as Guinga, Fleurine, Brad Mehldau, Chris Potter, Spok, Lee Konitz, among many others.
Possessing a voice as cool and crystalline as an Alpine stream, Natalie Cressman draws inspiration from a vast array of deep and powerful musical currents. A prodigiously talented New York City-based trombonist, she's spent the past eleven years touring the jam band circuit as a horn player and vocalist with Phish's Trey Anastasio, while also performing around NYC with jazz greats Wycliffe Gordon, Nicholas Payton, Anat Cohen, and Peter Apfelbaum. Deeply versed in Latin jazz, post-bop, pop, and Brazilian music, she has released 3 albums under her own name as well 2016's Etchings in Amber, a gorgeous duo album with guitarist Mike Bono that introduced Cressman as a formidable musical force without her horn. When she's not performing her own music, Cressman can be found collaborating with some of the most illustrious figures in rock, funk, jazz and beyond which have included Carlos Santana, Aaron Neville, Dave Matthews, Phish, Big Gigantic, Escort, The Motet, and Umphrey's McGee.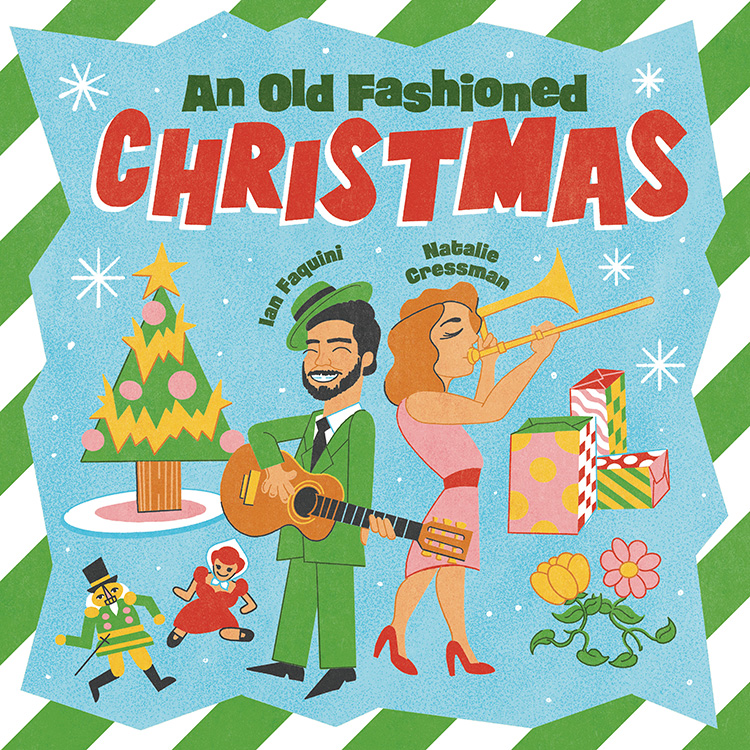 .
December 8, 2023
An Old-Fashioned Christmas
(2023)
With a rare appeal that extends beyond generations and borders, a classic holiday song has the ability to evoke a spectrum of emotions – from wistful memories of family gatherings to the unadulterated joy of Christmas morning.
That superpower is what propels the Nancy Langhorne Foundation, which runs by the motto "Fighting Cancer with Christmas." Since 2017, the Norfolk, VA and Brooklyn, NY-based non-profit has raised significant funds for cancer research and free screenings for the uninsured through their annual "Christmas Eve Eve" concerts on December 23rd, while their label, 12/23 Records, releases limited-edition holiday records.
This year, 12/23 is partnering with trombonist, singer, and songwriter Natalie Cressman and guitarist, composer, and vocalist Ian Faquini – a Bay Area couple whose acclaimed releases blend Brazilian musical traditions with modern jazz, folk, and pop. It's a natural move for the duo, who, as self-proclaimed "Jews who love Christmas," have been spreading joy with a series of virtual yuletide performances since 2020. Available as a 7-inch record, or digitally via GroundUp Music, An Old Fashioned Christmas was fittingly recorded last Christmas Eve. Steeped in nostalgia, the four-track EP finds the Brazilian-American duo performing songs that not only conjure personal memories but have also touched countless others over the years.
Side A features a trio of mid-century favorites, beginning with the Walter Kent/Kim Gannon wartime classic, "I'll Be Home for Christmas." Written from the perspective of a soldier who is spending the holidays away from his family, the song's bittersweet lyrics mirror the duality that the season represents for so many. "It's a happy, hopeful time, but also a time of longing," explains Natalie. The duo deftly expresses those complex emotions through an intimate live take, in which Natalie's vibrant soprano vocals are accompanied only by the warm tones of Ian's acoustic guitar.
Similar in tone is the wistful standard, "Have Yourself a Merry Little Christmas," written by Hugh Martin for the Judy Garland-led musical film, Meet Me In St. Louis. "It's one of those songs that you hear all the time without really thinking about it," Natalie notes. "But when you listen to the lyrics, you realize how sad it is." The couple's reflective, instrumental rendition captures those nuances, as Ian's languid guitar intertwines with a rich chorus of layered trombones.
The pair closes out Side A with an ethereal performance of "An Old Fashioned Christmas," a lesser-known Jimmy Van Heusen/Sammy Cahn tune, originally recorded in 1964 by Frank Sinatra. Natalie first heard the song when she was living in New York, across the country from her family. "The lyrics 'I'd trade that whole Manhattan skyline/The shimmering steel and chrome/For one old fashioned Christmas back home' really hit me at that particular time," she recalls. Today, it still resonates. "The song sums up the feelings that I have around Christmas time – which is of happiness and childhood memories, but also of being caught up in the shuffle and wishing for simpler times."
Side B pays homage to Ian's Brazilian heritage with a fresh, samba-infused take on Tchaikovsky's "Waltz of the Flowers" from The Nutcracker. The guitarist, who moved to California when he was eight years old, recalls the juxtaposition of tropical temperatures with images of a bundled-up Santa and his reindeer. "I think people forget that half the world celebrates Christmas in the summer," he laughs. That joyful, sunny flavor permeates the duo's interpretation of the ballet's famous waltz.
Initially, the musicians intended to perform a straightforward reading of the piece – assuming that their biggest challenge would be adapting the orchestral arrangement into a duet. "It was late at night and we had been inching our way through the original version," recalls Natalie. "We just started goofing around, performing it as a samba." Before long, the pair realized that they had something special.
Ian notes that their reimagined version "Just worked better in a duet setting. When I was working out the arrangements, there were some parts that just felt impossible. We were going to miss a lot of different voices from the orchestra." But, Natalie adds, "Somehow, performing it as a samba gave it some space to be different. It took on a life of its own."
That unique perspective is what makes An Old Fashioned Christmas so special, says Richard Langhorne, Director of the Nancy Langhorne Foundation. "I love that they chose to shine a new light on 'Old Fashioned Christmas,' a great, deep cut that many people probably don't know about. I also love how they approached 'Waltz of the Flowers,' infusing the classic Tchaikovsky track with their Brazilian influences. Natalie and Ian are very talented, very nice, and I'm very fortunate that they wanted to participate in this project."
An Old Fashioned Christmas marks the third collaborative project by Natalie and Ian, who unknowingly played their first notes together as children at Brazil Camp – an annual week of masterclasses taught by the South American country's most revered musicians. By the time the two artists reunited as adults at the Northern California retreat, they had each forged their own successful careers. In addition to individual solo projects, Natalie performed in Broadway orchestras and toured with acts like the Trey Anastasio Band, Lettuce, and Umphrey's McGee, while Ian became a faculty member at Berkeley's California Jazz Conservatory and has long been counted among the Bay Area's foremost authorities on Brazilian music.
The couple, who celebrated their engagement earlier this year, have previously released two acclaimed albums together: 2019's Setting Rays of Summer and 2022's Auburn Whisper. They are currently working on their next project, which will honor the music of legendary Brazilian composer and guitarist, Guinga.
All proceeds from An Old Fashioned Christmas will benefit The Colorectal Cancer Alliance and Eastern Virginia Medical School's Hope's Clinic, providing free colon cancer screenings to those in need.
1 I'll Be Home For Christmas
2 Have Yourself a Merry Little Christmas
3 An Old-Fashioned Christmas
4 Waltz of the Flowers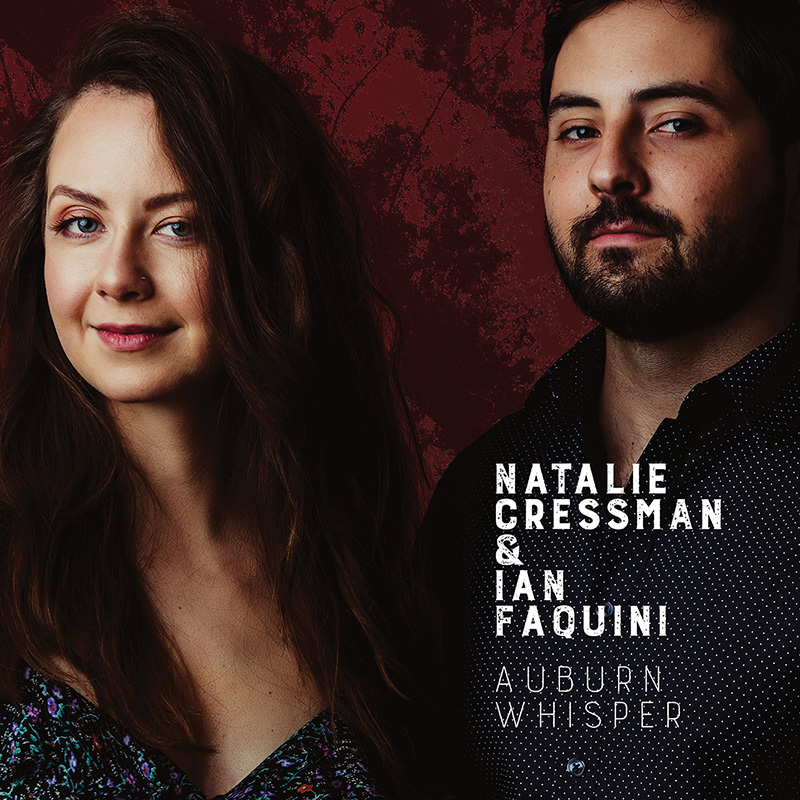 .
April 15 2022
Auburn Whisper
(2022)
Auburn Whisper—the latest album from trombonist, singer, and songwriter Natalie Cressman and guitarist, composer, and vocalist Ian Faquini—not only serves as a testament to the couple's symbiotic musical partnership but also to their resilience during unprecedented times. Written and recorded in 2020, Auburn Whisper finds the two artists blending traditional Brazilian rhythms with modern, expansive arrangements—reflecting on people and places they miss while discovering joy within the present moment.
Some might say that Natalie and Ian were destined to meet in the majestic redwood forests of Cazadero, CA. There, musicians from around the world gather annually for Brazil Camp—a week-long retreat that offers masterclasses from the South American country's greatest talents. As children, Natalie and Ian accompanied their parents to the camp, where they unknowingly played their first notes together at seven and eight years old, respectively.
Raised in the Bay Area, Natalie was surrounded by music. Her father, Jeff Cressman, is a renowned trombonist, producer, and engineer, while her mother, Sandy Cressman, is a jazz singer and passionate interpreter of Brazilian music. Ian, meanwhile, was born in Brasilia and relocated to Northern California when he was eight. As a young guitarist, Ian's interests were centered firmly on rock music. But that changed at 15 when he met the legendary composer and guitarist, Guinga, at Brazil Camp. "We hit it off immediately," recalls Ian of his mentor. "When I met Guinga, I switched my entire focus to Brazilian music."
Over the next decade, Ian and Natalie forged successful careers on either side of the country. In New York, Natalie became an accomplished trombonist and vocalist, recording a variety of solo projects, performing in Broadway pit orchestras, and building a following in the jam, funk, and jazz circuits with acts like the Trey Anastasio Band, Peter Apfelbaum, Big Gigantic, and Umphrey's McGee. Remaining in the Bay Area, Ian established himself as one of the region's foremost guitarists and authorities on Brazilian music. In addition to releasing his own music, Ian joined the faculty at Berkeley's California Jazz Conservatory and became an in-demand collaborator—often working with Jeff and Sandy Cressman.
But it was Brazil Camp that would eventually unite the two musicians as adults. The title track of Auburn Whisper details those early days together in the forests of Northern California. "The magic and beauty of the redwoods just fit with those feelings of opening up to somebody, musically and romantically," shares Natalie. The song also includes a nod to Guinga, who, years before, had a premonition that the duo would become involved.
Ian and Natalie's relationship flourished and, in 2019, they released Setting Rays of Summer. While they intended to spend much of the following year touring around the acclaimed album, the global pandemic changed their plans. Returning to California, the couple channeled their disappointment into songwriting. They settled into a comfortable routine, which included weekly recording sessions at Jeff Cressman's home studio. The process, Natalie recalls, "was all very organic. Without any commitments or restraints, we were able to take the time we needed to realize these songs and bring them to life."
That freedom also allowed the pair to take a more hands-on approach as producers and, for Natalie, to broaden her work as an arranger. "The arrangements took on a big role in the overall sound of the album," notes Natalie, who typically writes the duo's English lyrics, while Ian composes the melodies. In contrast to the stripped-down, live tracking of Setting Rays of Summer, Auburn Whisper found the duo revisiting each song, building layers of lush, nuanced trombone and multidimensional vocal harmonies. "With the extra time, we were really able to pay attention to detail," adds Natalie. "Normally, it would have taken us years to write this music."
Many of the songs on Auburn Whisper were influenced by the unique era that they were written in—and the rainbow of emotions that arose during lockdown. Threads of yearning and lament intertwine with joyful memories and introspective contemplation. "Segredo De Dadá," for instance, finds Ian longing to visit his grandmother (nicknamed "Dadá") in Copacabana. When he sent the expressive song to Guinga, the composer felt his own sense of saudades for Brazil Camp, which was canceled amidst the pandemic. Inspired, Guinga added lyrics, conjuring surreal, juxtaposed imagery of Rio and Northern California. Similarly, the poignant "Rear Window" (named for the classic Hitchcock film), paints a scene of isolation and desire. At the other end of the spectrum, the dreamy "Already There"—which the couple dubs their "Pandemic Anthem"—is about accepting one's current state of being and bravely facing the unknown.
Indigenous Brazilian folklore also permeates the album, thanks to Iara Ferreira—a frequent collaborator of Ian's, who wrote the majority of Auburn Whisper's Portuguese lyrics. "Iara's words just meld so beautifully with the music," admires Natalie. "She always ties in a really fitting meaning that goes with the vibe of the song." Among several examples is the spritely opening track, "Afoxé pra Oxum," which references Oxum—the goddess of rivers, waterfalls, and fresh water. Set to a foundational ijexá rhythm, the meditative track incorporates a traditional chant to the deity, who is also a symbol of fertility, beauty, and wealth.
"Brazilian music and culture is a mix of African, European, and indigenous traditions," explains Ian. "Indigenous words are part of Brazilian Portuguese and contribute to the rhythm of the language, so I'm always thinking about that when writing songs." One particularly percussive vocal performance can be heard in "Curandeiro," in which the duo sings about a healer who cares for the Mundukuru people of the Amazon. The song also marvels at human beings' vital connection to nature—another prominent theme of Auburn Whisper. The bright "Benção de Iansá," meanwhile, offers a blessing to Iansá, the goddess of winds, storms, lightning, and fire, who is frequently called upon to ease the pain of life's difficult moments.
Reflecting on the turbulence of the pandemic, Natalie and Ian certainly conjured their own inner strength—growing together as both artists and as a couple. "With the year that 2020 could have been, there was certainly a feeling of loss. But it ultimately gave us time to be creative—something that we rarely have when we're touring," shares Natalie. "Together, we were able to get back to the heart of why we really love music."
1 Afoxé pra Oxum
2 Rear Window
3 Canaã
4 Auburn Whisper
5 Benção de Iansã
6 Segredo de Dadá
7 Cazadero
8 Curandeiro
9 Already There
10 Ralando Coco
11 Hood River
12 Doutor Escobar
13 Madrugada