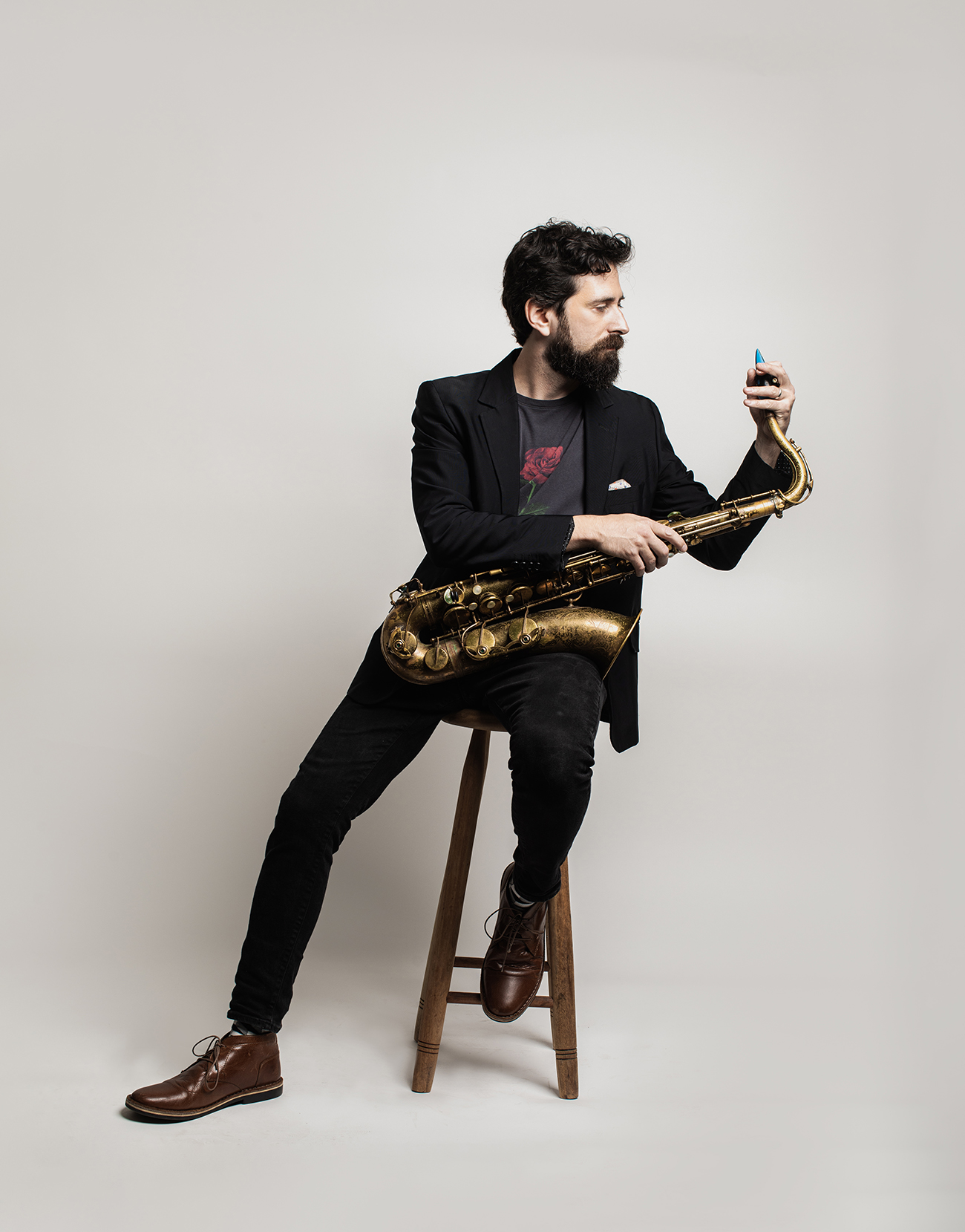 Oran Etkin
Bio
Oran Etkin has been described as "Ebullient" by the New York Times, and voted #1 rising star clarinetist in DownBeat Magazine's Critic's Poll. His music can be heard on concert stages worldwide and on numerous recordings, including a Grammy Award Winning compilation. He is on the faculty of The New School University and has also appeared as a guest lecturer at Harvard University. French newspaper Libération chose his Paris concert as one of the top 6 musical events of the year, hailing it as "a concert of weightlessness, class, spark, inspiration and sharing. Magic uninterrupted… for such is the music of Etkin: sensitive to the exchange with the audience."
Indeed creating connection is at the core of all of Etkin's musical endeavors. With his Open Arms Project, Etkin flipped the traditional tape-then-tour model. He took time off during his tours to create new music with traditional mbira musicians in Zimbabwe, Roma musicians in Czech Republic, legendary songwriters in Rio de Janeiro and innovative composers in São Paulo. Now on tour, Etkin's band deconstructs and recomposes fresh music based on the melodies, rhythms and motifs that he recorded around the world. Incorporating electronics derived from stems of the original recordings, the live show tells a story of an opening and connected world, rooted in its traditions, yet forging a fresh path forward. On the upcoming Open Arms album (Jan 2024 - Ground Up Music), the original collaborations recorded on location are intermingled with these modern electronics-infused compositions that pay homage to the people and places Etkin connected with on his journey.
Etkin feels a strong responsibility to uplift the next generation, passing on the rich musical traditions of this world and instilling a sense of curiosity and openness to other cultures. Etkin's Timbalooloo program has created a paradigm shift in music education, empowering children to express themselves by making instruments come alive and talk with each other. The Timbalooloo educational method has been embraced through partners worldwide ranging from The New School University's Mannes Prep program to UNESCO & Herbie Hancock Institute, to Mladi Ladi Jazz, which has implemented Timbalooloo in public schools throughout Czech Republic with particular outreach to the underserved Roma community (Roma are the people often referred to as Gypsies). It has also been endorsed by celebrity parents including Harvey Keitel, Naomi Watts, Live Schreiber, Martha Stewart, Ken Burns, all of whom enrolled their children or grandchildren. Etkin's full band live Timbalooloo concerts for children has been embraced by theaters worldwide with performances at North Sea Jazz, Istanbul Jazz Fest, Kennedy Center, Shanghai Theater and more. The latest Timbalooloo album, Finding Friends Far From Home, was recorded in Zimbabwe, Turkey, Czech Republic and China and tells the story of Clara Net (Etkin's Clarinet) making new instrument friends in each country. Timbalooloo endeavors to nurture a generation of children to become fluent in the international language of music and see beauty and creativity in other cultures.
Whether standing in front of an orchestra or sitting cross-legged on the floor surrounded by a gaggle of children, Etkin's work is about imagination, expression, playfulness and emotion. It draws its strength from the conviction that the the true power of music lies not just in the individual's pursuit of technical mastery but in the joyful and soulful creation of community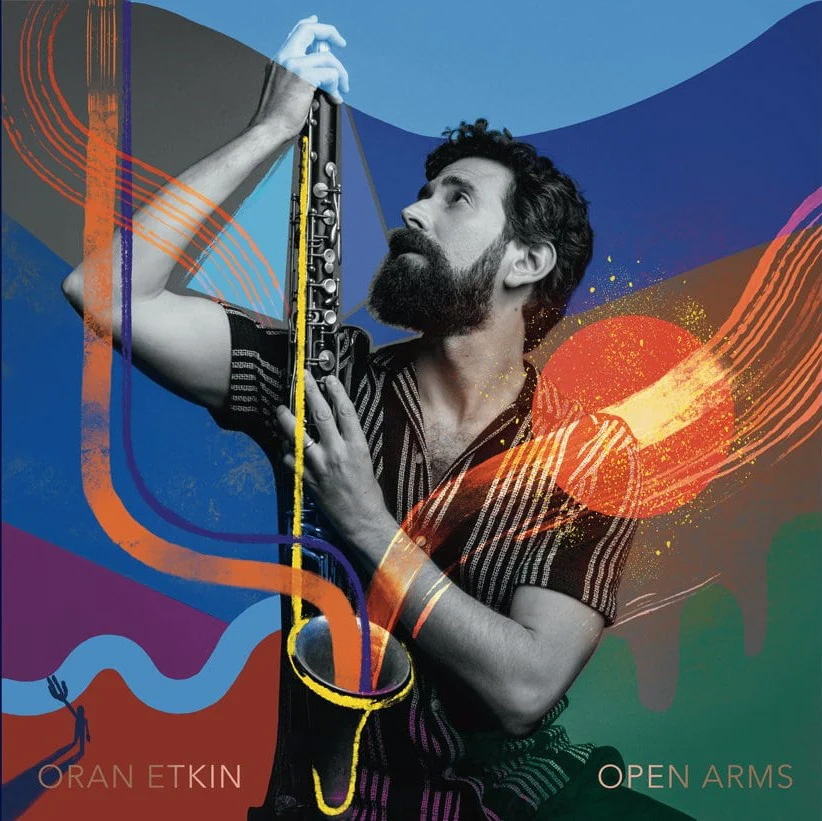 .
December 1, 2023
Open Arms
(2023)
Recorded as Etkin toured in Brazil, Zimbabwe, US, Canada, Czech Republic and Turkey, the album features on-location collaborations with musicians in each country as well as well as innovative use of sampling and electronics to improvisationaly deconstruct these field recordings in an interconnected web spun by Etkin's live band. This fresh combination of deeply traditional sounds with forward looking improvisations tells a spellbinding story of an opening and connected world, rooted in its cultures yet intent on forging a new path forward.
"We are together, we are soldiers of peace" - these words of 85 year old Zimbabwean Mbira master Tute Chigamba start off the track "We Are Together" encapsulating the mission of Open Arms. The project, steeped in the values of listening and mutual co-creation on a global level, is Etkin's answer to a world suffering from mutual destruction, polarization, dehumanization and fear. In a rebuke to the forces dividing us, this album focuses on connections: deeply personal connections that Etkin formed with musicians around the world as he toured, and then layers of connection between the music and people of each country that unfold through Etkin's compositions.
The album opens with É Doce Morrer No Mar recorded in Rio de Janeiro with 75 year old legendary songwriter Danilo Caymmi, whose father wrote this song in 1941. The album closes with the same composition completely reinterpreted by Etkin and his New York band with Kevin Hays and Matt Wilson from a live concert of theirs in Canada. In between we can hear Etkin in Zimbabwe in a beautiful intimate duo with Mbira master Musekiwa Chingodza playing a traditional song for the mermaid spirit, or in Prague with Romani singer Pavlina Matiova and a band of Roma, Czech & Slovak musicians playing Djelem Djelem, a song at the heart of the national struggle of the Roma people (Roma are the people often referred to as Gypsies, and Etkin has been active in collaborating with Pavlina and other Roma musicians and activists over the past five years).
At the center of the album are a series of original compositions recorded with his Open Arms Band in São Paulo for NYC Winter Jazz Fest. Pavlinka's Dream starts off with the band improvising around a sample of Pavlina singing a Roma lullaby and the moves into the psychedelic world of dreams. Drummer Serginho Machado lays into a double-time hip-hop infused trap beat, enhanced with loops of hand-clapping from Zimbabwe, an electronically modulated sample of an mbira and a short loop of a kopuz from Turkey, that he triggers in and out spontaneously. Etkin's clarinet and Gomes' guitar float above with a rubato melody that Etkin composed by stretching and playing with the melodic shapes of the lullaby. Serginho can also be heard front and center on Protection Song, which combines recordings Etkin made in Turkey with traditional masters Erkan Ogur and Jehan Barbur along with Machado's funky and modern drumming style. Caymmi is a dedication to Danilo Caymmi and the legacy of his family in Brazil, and is followed by Looking For Lacy, where musical elements of Caymmi linger and overlap with the theme from Etkin's composition dedicated to Steve Lacy that he recorded in Paris with Thomas Enhco. The track We Are Together finds the Open Arms Band, recorded in São Paulo, improvising over samples from Etkin's work in Zimbabwe with the Chigamba family. The elder of the family, Tutu Chigamba, can be heard talking to Oran saying "Everywhere in the world you can go, you don't fear anyone, you don't fear anything. Because when you start playing, people sit down and think more deeply… yes, we are soldiers of peace."
1 É Doce Morrer No Mar
2 We Are Together
3 Turkish with Serginho
4 Pavlinka's Dream
5 Chigwaya - Song For The Mermaid Spirit
6 Caymmi
7 Looking For Lacy
8 Pro Carnaval Voltar (feat. Kabé Pinhero)
9 Djelem Djelem
10 É Doce Morrer No Mar (Live)